RadioStar is the gift that keeps on giving! Two of our contestants made the news this week:
Imogen Brewer from the UK placed in the Top 25 of this year's contest. Her knowledge of music and her passion for all things radio helped her stand out from the crowd. So we were over the moon to hear that she is now part of the set up at BBC Radio 1 and the BBC Asian Network.
Fantastic news and a HUGE well done, Imogen 🙂
Then there is Jason Charles…otherwise known as DJ Charlo.
Jason moved to Dubai from Trinidad & Tobago in 2018 and this year placed 2nd in RadioStar. 
One day after the announcement, Jason was offered a full-time position as Music Director with FunAsia  in Dubai and has made the headlines at home in T&T in news and online media as well as featuring on the nation's TTT Morning Show.
Congrats, Jason, You're working it!!
Three things we spoke about in our talk yesterday with the students at Coláiste Dhúlaigh College of Further Education.
1. Have an idea? Do something about it today. Anything!!
2. Know what makes you different to everybody else and embrace it.
3. You need to listen to your gut. Then use your head.
When we talk to an audience like this, mostly made up of people under 25, it's so important to get the point across that time is of the essence.
It may appear that you have all the time in the world but it catches up with you quickly.
If you have an idea now…act now!!
Master it and continue to hone your craft.
Don't wait.
For two reasons:
1. Procrastination just keeps on giving!
2. Someone else will eventually arrive at the same idea as you have…but will get there first.
You have something that no one else can offer.
* Find out what that is.
* Listen to yourself.
* Trust yourself.
* Invest in yourself.
What a great response and we're very thankful to everyone who attended.
We're wrapping up the Live Workshops part of 2022 with two dates in Dublin.
Back on the 5th, our Ride The Intro Training formed part of a FIVE Hour session at the Maldron Hotel (below) in the Smithfield part of the city, as presenters and on-air people from all over the island of Ireland sat in and took part in a pretty lively afternoon debating and discussing all aspects of presentation. It's an exhausting day each time…but SO much fun!!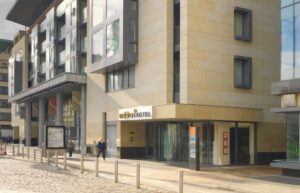 NEXT UP for us is one of our favorite things: Speaking to Radio Students.
We will spend the 24th of November with 30 future radio professionals in Coláiste Dhúlaigh CDCFE for a full day of Radio Basics and Advanced.  These events are a window into the next five years and beyond and it's a real honour to witness the start of careers.
Then…looking slightly ahead and into 2023 – we have a busy January planned with day long coaching trips in Belfast and Glasgow.
( Book your 75 minute session here )
We are also thrilled to add three new presenters to our full-time/six-week coaching programme from Ireland, the UK and Canada.
Let's GO!!!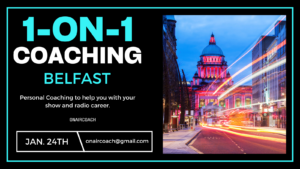 Our Dublin Workshop is in full swing!
Next stops – Glasgow, London, Belfast & Toronto…
More info on how you can register for a workshop near you? info@onaircoach.net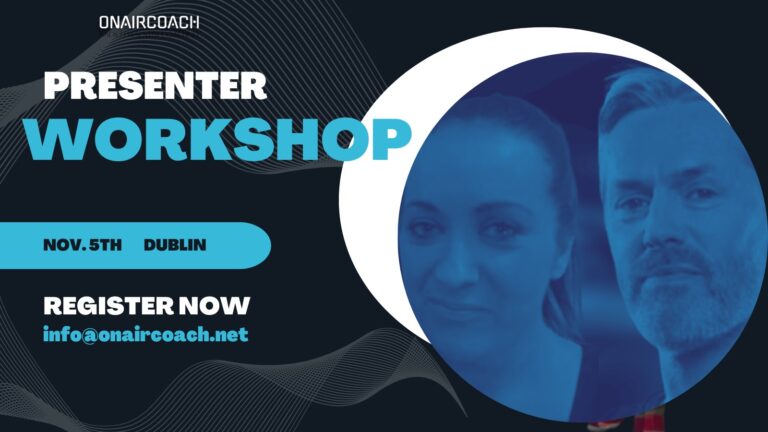 What a month!
We kicked it off in Malta and ended up in Dublin via Paris. Relocating isn't easy at the best of times but try doing it with two dogs and four suitcases!!
That was a new one to us. Thankfully the mutts were great and didn't cause any fuss. The humans on the other hand….!! (LOL)
* Last week saw us head to Scandinavia for two talks and presentations.
Sounds straightforward, right?? Nope! Think again.
After arriving in Dublin airport for our 11:55 flight to London Stansted, we were greeted with the 'one hour delay' notice on the flight board. "No problem…could be worse" etc.
Cue the largest electrical storm in years and that one hour turned into three…then four…then five!
After moving boarding gates four times and being charged extra for two bags we already paid for (Thanks Ryanair)…we boarded the flight. At this stage we were feeling that we could still make the connection to Stockholm.
After one extra hour sitting on the ramp, that option disappeared!
Let's just say, it wasn't the most enjoyable flight of our lives. Made even more cruel as we landed in London to watch the flight we were booked on push back without us.
Long story short – lots of texts, calls and emails between us and Stockholm and Oslo – we boarded the National Express (thanks Neil Hannon) and began our 4 hour bus trip to Heathrow to catch a new flight.
You think that's it?
Nah!!
Our connection at Victoria station introduced us to London nightlife. The poor, the homeless, the unfortunate…all manner of life. A real eye opener that confirmed how lucky we actually are.
Heathrow was a breeze and we arrived in Stockholm just in time for our first talk:
Guldorat 2022 – The Swedish Radio Awards. 500 industry pros in the audience.
What a funky town and the people were super cool and friendly. Great buzz.
But short lived because four hours later we boarded a Norwegian Airlines 737 bound for Oslo, where we spent the next two days presenting 'Ride The Intro' to 400 radio delegates from all over Norway at the Radiodager event. Then followed that up with two fully booked Workshops.
One heck of a whirlwind month!!!
NEXT:
Our Dublin Workshop on November 5th. One FULL day of radio coaching and training.
Then we have a college lecture to prepare for and deliver at the end of the month. 
Finally, we are working on a three day coaching programme in Dublin immediately after the college lecture.
That's where we are right now as we approach November.
How about you?