Our Biggest Course Ever.
The OnAirCoach 10-week programme is a high-intensity online series designed for radio people who want to radically stand out from a sea of competitors and attract listeners and employers.
Important notes:
Small group of max 10 individuals who understand there has been a revolution in radio since 2019 and the 'old' ways won't help anymore.
Homework – Exercises and tasks each week to expedite you to the level you need to be at.
Group Sessions – (7-8pm UK time) Each week, a one hour group call to hold you accountable, get detailed feedback, and move forward.
Individual Sessions – Each week, a follow up 30-minute 1-on-1 call to work solely on your needs and strengths.
Email Back-up – We are available for email support between sessions.
This is for people willing to put in the hours and effort.
This ONLY works if you dedicate yourself to it.
You will need stamina, commitment, ambition, vision and a solid belief that you are doing the right thing for yourself.
Weekly workload: between 2 and 4 hours (depending on the week and how much you want it!)
Tuition: 899euro. Early Bird Special (before Mon. Oct. 4th): 799euro. (Full Price: One Full Payment or deposit of 150euro, then 249euro X3.)
(Early Bird: One Full Payment or Deposit of 250euro, then 275euro X2)
People Say Nice Things:
"The work Nails and Tracey are doing is truly helping the industry grow. It's truly appreciated!" – Will Menzies, Afternoons – Magic 106 Ontario Canada.
"The absolute best" – Declan Wilson, Mornings  Q Radio Belfast N. Ireland.
"It's been such a blast. So much fun and I learned SO much" – Cain McCoy, Power 106 Los Angeles CA, USA.
"You got it right. I now work for a great radio group. I always came back to your advice as I plowed through the complete mayhem! Thanks!" – Lee Barber,  Presenter TX1 England.
"I would trust these guys with my career any day" – David Kaye, VoiceOver, Los Angeles CA, USA.
"Just awesome" – Lucy Holmes, Mornings 89.9 The Light, Melbourne Australia.
"You two are leading the way" – Steve K, PM Drive Spin 1038, Dublin Ireland.
"Absolutely 100%  spot on with everything!" – Luke Smithurst, Producer/Podcaster BBC Radio Sheffield.
"Keep rocking it out there!" – Dean Graziosi, 'Tony Robbins & Dean Graziosi Training', USA.
"Amazing coaching sessions. Thanks again" – Vikki Martin, Presenter Dublin City FM, Ireland.
"I enjoy your industry content and am excited to join the Group" – Josh Evans, Afternoons 104.9 The River, Columbus OH, USA.
"The guidance and advice got me here" – Ross Carey, Presenter Pure Radio, Glasgow Scotland.
"Thanks for everything" – Ethan Van Vaals, PM Drive CISN-FM, Edmonton AB Canada.
Need more info?
Say hello on email: info@onaircoach.net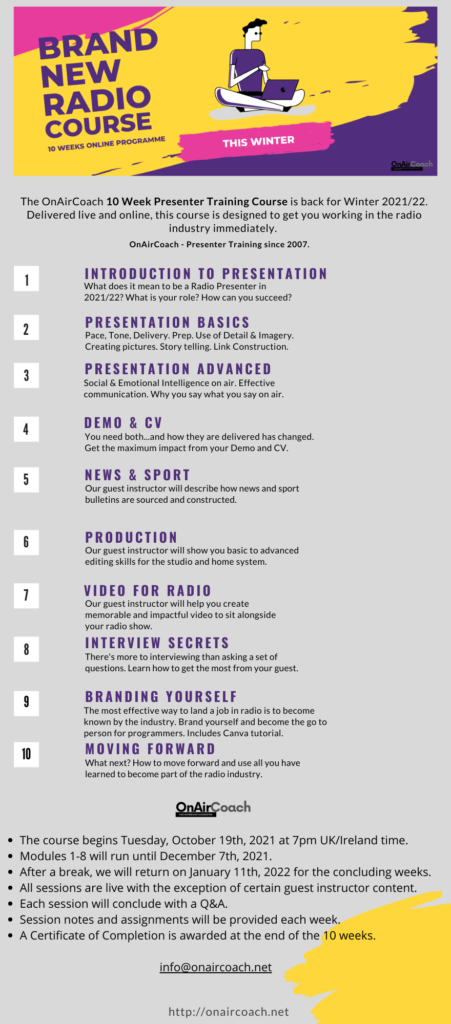 NEXT 10WK COURSE APRIL 2022
REGISTRATION OPENS FEB '22.
Nails Mahoney & Tracey Lee.
 30 years on-air each.
98FM Dublin, RTE 2FM Ireland, Today FM Ireland, Jack FM UK, BBC Radio 6 Music UK, Southeast Radio Ireland, Classic Hits Ireland, XFM Malta,                               
Z95.3 Vancouver Canada, Q107 Toronto Canada.
The Original Presenter Coach Since 2007.
CDETB Accredited Trainers.
Certified Life Coaches.
Certified Career Coaches.
Qualified 'Strategic Thinking' Coaches.
Public Speaking Instructors.
Since 2007:
.Over 4,000 Presenters Coached and Trained worldwide.
Speakers at TEDx, European Radio Show Paris, NEXT Radio London, International Radio Festival Malta.
Over 50 Presenter Workshops held across Ireland and the UK.
Creators of 'RadioStar' – The only International Radio Talent Search…now in its 4th year.