Digital Media & Radio Career Coaching
PRESENTATION COACHING
OnAirCoach
The Original Presenter Coach since 2007
Flash Sale Offer by Nails & Tracey: 🚀 Unlock Your Podcasting Potential!
1) Radio Demo or Podcast Production – 50 Euro 🎙️🎧
Let Nails & Tracey, with their 30 years of extensive broadcasting experience, transform your podcast or radio demo into a masterpiece. For a limited time, avail their exclusive flash sale service that covers everything from editing to adding personalized elements to make your content stand out.
What's Included:
Professional editing to enhance the quality of your content.
Integration of music and sound effects for a captivating experience.
Nails & Tracey's own voiceovers added to your intros and podcast outros.
Quick turnaround time to ensure your demo is ready for the spotlight.
How to Get Started:
Reach out to Nails & Tracey via 📧 [info@onaircoach.net].
Share your raw audio files and any specific requirements.
Nails & Tracey will work their magic, infusing your content with their years of expertise.
Receive the edited demo with a professionally polished sound.
Bonus:
A brief consultation to discuss the edits and any additional recommendations.
2) One-on-One Career Guidance – 50 Euro 🌟
For individuals in the media industry at a career crossroads, Nails & Tracey offer a personalized one-on-one session to help you navigate your professional journey.
What's Included:
In-depth assessment of your current career situation.
Identification of strengths, weaknesses, opportunities, and threats.
Crafting short-term and long-term career goals.
Development of a strategic plan for career growth.
Guidance on overcoming challenges and thriving in the dynamic media landscape.
Building a personal brand and online presence tailored to your goals.
Why Choose the One-on-One Session:
Tailored advice based on your unique circumstances.
Constructive feedback and actionable steps.
Insights from certified life and career coaches with over 30 years of broadcasting experience.
How to Book Your One-on-One Session:
Email 🌐 [info@onaircoach.net] to secure your spot.
Limited availability for personalized attention.
Take advantage of this rare opportunity to receive personalized guidance and elevate your podcasting or media career. Nails & Tracey are here to help you shine in the industry! ✨
Our Annual Career Day is Now Extended to an ENTIRE WEEKEND!!

⭐Unlock Your Career Potential at Our Weekend Career Workshop! ⭐
Are you ready to take the next step in your professional media journey? Join us for a transformative weekend of learning and inspiration at our Weekend Career Workshop, and set off on the path towards your career in the media industry!
📅Dates: January 13th & 14th 2024.
📍Location: Maldron Hotel, Smithfield, Dublin.

⭐Day 1: Discover Your Media Passion (10am-5pm)
🎤Dive into the world of media as our *five expert speakers* guide you through the possibilities in radio, podcasting, voiceover, video production, social media, TV, and writing for media.
Here's what you can expect:

🎙️Engaging Guest Speakers : Learn from industry leaders who have achieved remarkable success in their respective fields. Gain valuable insights and insider knowledge.

🤝Networking Opportunities: Connect with like-minded individuals, mentors, and potential collaborators who share your passion for media.

🗣️Interactive Workshops: Participate in hands-on activities, interactive discussions, and Q&A sessions to deepen your understanding of various media careers.
🤔Career Path Guidance: Discover your true calling! Our experts will provide personalized advice and guidance to help you identify your ideal media career path.
🍃Day 2: Make Your Plan (12pm-4pm)
📈Now that you've explored your options and gathered insights, it's time to create your roadmap to success.
Day 2 is all about:
🏢Career Strategy: Craft a personalized career plan that aligns with your skills, passions, and ambitions.
🪜Actionable Steps: Break down your goals into manageable steps and learn how to stay on track.
💁Mentorship Opportunities: Connect with potential mentors who can help you along your journey.
💼Job Search and Freelancing Tips: Gain valuable advice on job hunting, freelancing, and building a strong portfolio.
🔐Unlock Your Potential: Leave the workshop equipped with the knowledge, resources, and motivation you need to jump into the media world.

🚀This is a great opportunity to set yourself on the path to your media career. Whether you're a beginner or looking to make a change, our Weekend Career Workshop is designed for you!
💵A Deposit secures your spot today. Limited seats available, so act fast! ✔️
🚀It's time to ignite your media career. Join us at the Weekend Career Workshop, and let's make your dreams a reality! 🚀
———————————————
ps: DEPOSIT OF 35 EURO SECURES YOUR SPOT RIGHT NOW.
EMAIL info@onaircoach.net /// OR CLICK THE *REVOLUT* BUTTON BELOW.
Presentation
Master the art of Audio Presenting.
---
Feel more confident with your content and delivery.
Cultivate powerful audience connections.
Radio / Podcast Presenters.
Media Career
Empower your path for success and fulfilment.
---
Build professional networks.
Develop personal branding.
Radio / Podcast / Social Media Presenters.
Voiceover
Unleash the power of your voice.
---
Perfecting vocal techniques.
Script interpretation and delivery.
Aspiring Voiceover Artists / Actors.
New career opportunity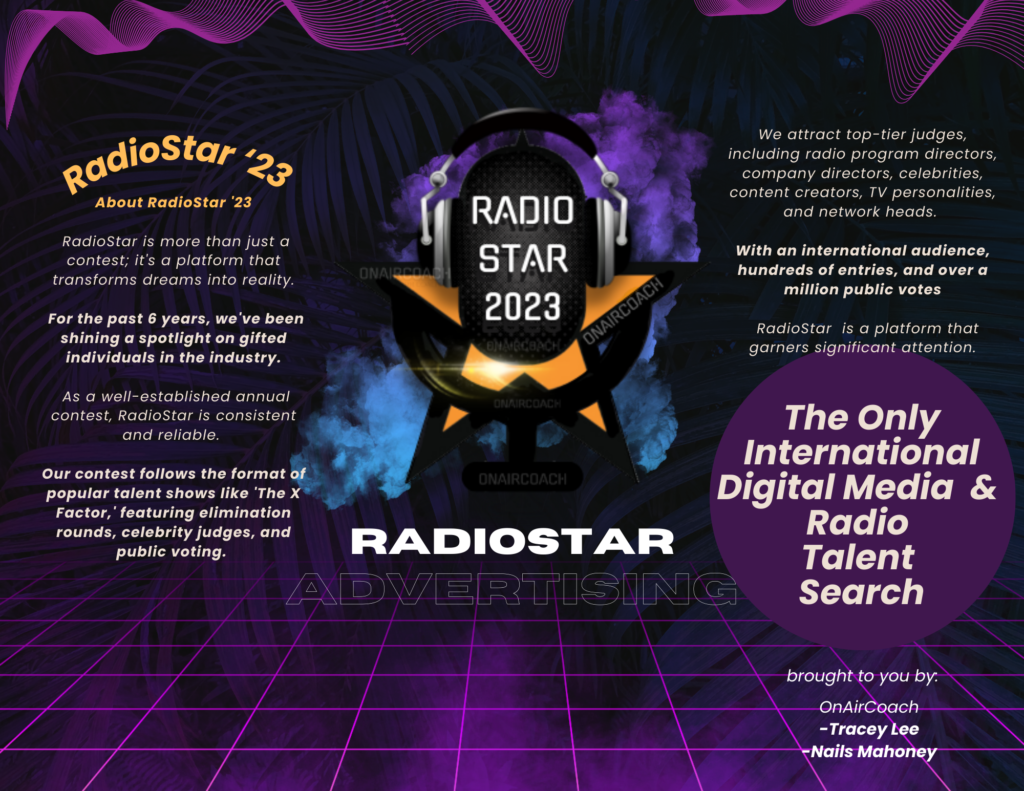 GET IN TOUCH
Schedule a Consultation
TESTIMONIALS
BMACMEDIA (341983)
Registered, Ireland, 2007