RadioStar '23 Stage 2 Submissions
"Welcome to 104.7 Lift! We are your home for fun, community and positive vibes. We pride ourselves on being your station to turn on when you are feeling off. Our mission is to lift you up, and we do that with our amazing talent, and upbeat music."
CONTESTANT 2 - GRACE NICOLL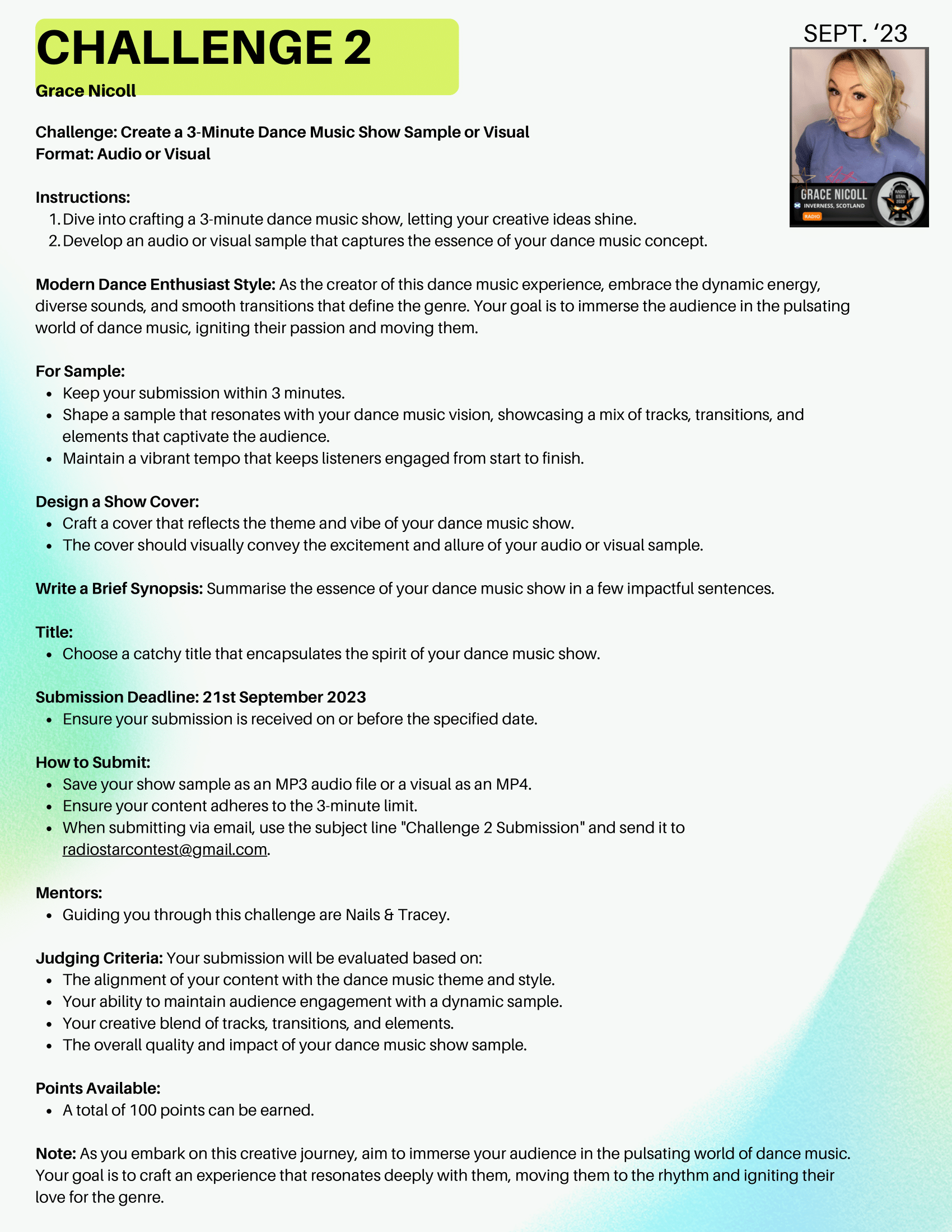 Synopsis:
"DANCE Nation FM" is your go-to radio show for weekend club classics with Grace Nicoll. Tune in every Friday and Saturday from 8 PM to 11 PM GMT to experience the best dance music from chart-toppers to underground gems, mixed by the electrifying Grace Nicoll. It's the perfect soundtrack to kickstart your weekend and keep you dancing all night long.
After the final whistle blows, it's time to keep the football spirit alive with Alex Irons on "Rock n Roll Football." Join Alex as he breaks down the game, celebrates the wins, and discusses the highs and lows of the beautiful game. With a rock and roll soundtrack, this post-game show on Absolute Radio brings the perfect blend of sports analysis and music to keep the football excitement going long after the match has ended.
CONTESTANT 4
SIMON ABBERLEY
NOTE TO JUDGE: Please find Simon's synopsis and Cover image included in the Youtube Link – Click 'Watch On YouTube' on bottom left. 
Radio Star '23 – Challenge 2
Synopsis.
Show Title: Birmingham Sport with Ben Ellis
Please find attached my submission for Challenge 2.
From Saturday 16th September 2023 at Villa Park, the highlights of the Premier League match between Aston Villa and Crystal Palace.
We join the action in the 88th minute of the match with Crystal Palace leading 1-0, with Aston Villa pushing hard for an equalizer.
A very dramatic finish.
Music used: Doves – Black and White Town
CONTESTANT 6 BENJAMIN UDOH

"The Weekend Vibe Show with Benji" is your ultimate music getaway every Saturday and Sunday. Benji serves up a seamless mix of  tunes.  Benji's got your weekend playlist covered. Tune in and let the music set the vibe for your perfect weekend.