RadioStar is Back! This time Bigger and Better than ever!
This year's contest is open to ALL LEVELS from Newbie to Veteran.
WHY ENTER? 
Great Question. 
You will receive feedback and tips from some of the World's TOP RADIO People. You will be heard and acknowledged by those very people you are trying to connect with…AND you will raise your profile in the industry immediately.
Last year, our Top 10 contestants went on to become Programmer Directors, TV Presenters and On-Air Personalities.
YOU WILL ALSO GET BE COACHED BY NAILS & TRACEY FOR 1 WHOLE YEAR –
(worth €3,500)
What is Your Dream?
In 2020, the contest generated over Half a Million votes and presenter profiles were viewed over One Million times.
This is the ONLY Global Radio Talent Search and this year…it could be YOUR turn to shine!
Last year's winner, Alice Vickery, had a dream to work on BBC Radio in her part of the UK. The picture below shows that dreams can come true and ambitions realised when you apply yourself and 
GO FOR IT!!!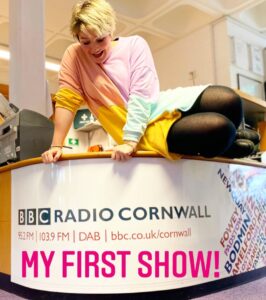 On Radio / No Experience but think you've got what it takes?
SEND US YOUR AUDIO ENTRY– It can be from one of your previous shows, recorded in your home studio or even on your phone! We want to hear your voice, your personality.

Duration of Entry – 60 secs minimum – 5 minutes max!

Send as an mp3 to  radiostar21@outlook.com

Include your name.
Any other info relevant to your entry (optional)
THAT'S IT!!
CLOSING DATE - FRIDAY APRIL 30th 2021
WHAT HAPPENS NEXT?
This year we will be including some extra elimination rounds before revealing our Final 10.
That means the judges will listen to all entries and they may ask for extra audio from you to decide their finalists. Don't worry, we will give you plenty of time and help every step of the way.
THIS IS NON PROFIT PROMOTION AND IS OF NO FINANCIAL GAIN TO ONAIRCOACH.
OUR MISSION: TO SHOWCASE UNTAPPED  BROADCAST TALENT.
ALL COSTS COVERED BY ONAIRCOACH.
DONATIONS AND PRIZE DONATIONS ARE GREATLY APPRECIATED.
Thank You.